The scientific journal "The Humanities and social sciences" is a web periodical publication of open access, publishes articles, reports, reviews and other mate-rials of educational, scientific, humanitarian, socio-economic and cultural-educational character, ensuring their objective examination and review.
Currently, the journal has developed as a periodical publication of a certain direction. Its pages include scientific materials on a wide range of problems relating to the philosophy of science and education, philosophical anthropology, contemporary social and philosophical and religious stud-ies, the history of philosophical and pedagogical studies, interdisciplinary studies of national cul-tures, typological, comparative, comparative-historical linguistics, folklore studies, the study of the literary heritage of the peoples of Russia and abroad. A significant place is given to the ques-tions of the methodology of scientific knowledge, to specific methods of teaching, upbringing and vocational education. The issues reflect the chronicle of scientific life, information about sci-entific and practical events.
The main objectives of the journal are: to promote the development of fundamental and applied knowledge in the field of social sciences and humanities; to attract the attention of the scientific community to the most relevant problems and prospective directions in the field of philosophy, linguistics, literary criticism, education; the creation of a public site for the integration of knowledge and experience of scientists and practitioners in these scientific fields.
The journal is focused on scientific and scientific-pedagogical workers, candidates of scien-tific degrees, undergraduates, as well as representatives of management bodies of educational systems of different levels.
The basis of the journal's policy is the principle of openness of the publication for authors and readers.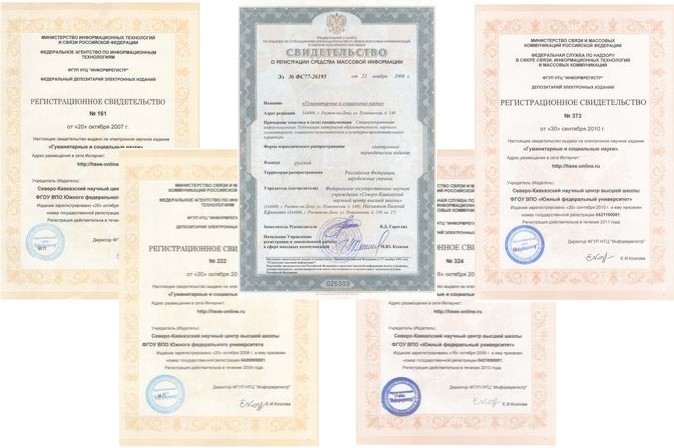 Founded in – 2006
Form of distribution: Web edition of open access
Certificate of mass media registration Ýë ¹ ÔÑ77-51023 September 04, 2012 Federal Service for Supervision in the Sphere of Communications, Information Technology and Mass Communications (Roskomnadzor)
Domain website name: hses-online.ru
Publication serial: 6 issues per year
Languages: Russian, English
Location: Rostov-on-Don, Russia
Founder: Southern federal university; Evgeny Ephimovich Nesmeyanov
Scope: the Humanities, social and economic sciences
Free access to full-text articles
Since 2014 articles are published in Russian and English
All articles are presented in Adobe® pdf. format. To download the program click here, or in the navigation part of the website at the left-hand corner.
E-journal "The Humanities and social sciences" is in the list of the leading reviewed journals and issues where main research results of dissertations should be published for the candidate degree and Ph.D (In accordance with the solution of the presidium of HAC Russian Ministry of Education. Date of inclusion – February, 19, 2010.
The journal is indexed by scientific database: Russian science citation index (ÐÈÍÖ); ULRICHSWEB Global Serials Directory; Open Academic Journals Index; National digital resource «Ðóêîíò»; Turkish Education Index.